As you can see, I failed to upload (or even make) a new layout for Cheonsaa. My bad. I have decided to feature Yang Yeosob of B2ST since I love his song Caffeine, but as I browsed around in search of HQ photos, I came across D-Unit's Ceci Magazine's photoshoot. (Yes, I love D-Unit because they're cute) It took me hours to put my attention away from the photoshoot and still keeping Yeosob. I've featured other members of B2ST on my previous layouts (in my previous blog URLs of course) including Dujun, AJ, Poppin' D and Hyunseung so I think it's nice to feature another member of B2ST. Nope, I'm not a B2uty (the name for B2ST fans) but I have to admit that I'm their fan BEFORE they were in B2ST - Gikwang during his AceJunior promotion, Dujun in HotBlood, Hyunseung in Big Bang, and Junhyung in Xing. It's frustrating that they have to depart from their previous activities, but I'm proud to see them all in one group, having so many fans and of course, good songs too.

Alright, enough with the lame story, let's talk about what happened today. A week ago, my sisters decided to do a major cleaning in our room - I share my room with my two sisters. During the cleaning, they collected too many posters (since we bought too many albums which came with free posters) and they decided to throw it away. However, the posters were still "alive" in our room, so I decided to give it away. I posted some previews in Dorkistic's Facebook and the first few people who replied with their favourite idol's name will get a poster. It was fun. Later on, I did the same event on Twitter and so four more posters were given away. Those are old posters that we have been collecting for a while now. Look at these posters:



I don't even know that I have a B1A4 poster! and that Big Bang poster is pretty huge too~ what you see up there is just one third of the posters that we own. I don't know that old posters like can be a treasure to other people. Some of the posters even have autographs and we decided to keep that for a while until we have a special day to give it away. We hardly hang our posters, so they will be kept under the bed, in the postage tube. I'm glad that we can give them to a new family, where they might be treasured and even hanged on the wall. Let's take a look at some of the posters that I gave away~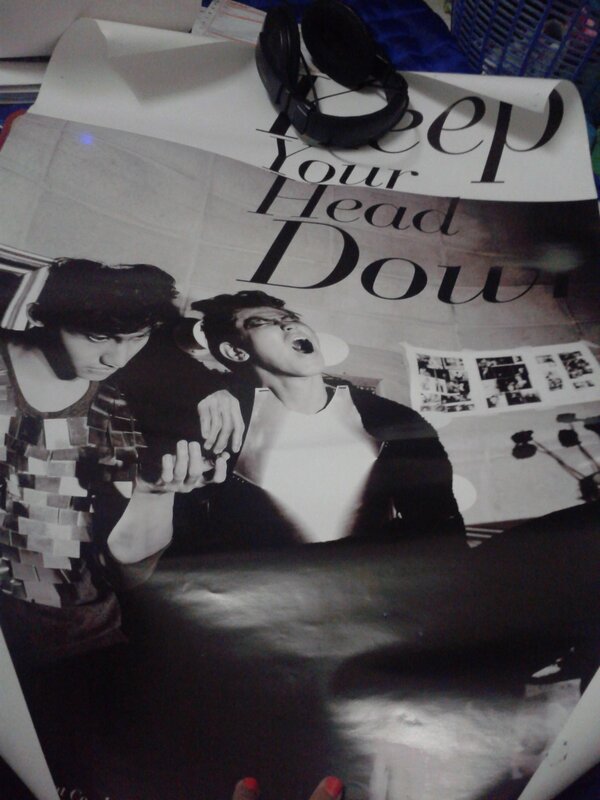 This TVXQ poster is so large, and I put it up on my bedroom wall back during my postgraduate studies. I put JYJ poster beside it too. I never own a TVXQ album, but that year, I bought both TVXQ and JYJ album XD


We received this poster during U-Kiss' Without You showcase - the first ever Korean Idols event that we ever attend. It has Eli's autograph on it. We never missed U-Kiss' showcase in Malaysia so far, and we're proud that we have all our U-Kiss CDs signed by the boys too~
And this is the only Infinite poster that I have. Well, that's the last album of Infinite that I bought. After Nothing's Over, I don't really listen to them because I think their musical style has changed and I don't really like it. Sunggyu's solo album is good tho, but Infinite H is just ridiculous. Sorry Inspirits~ XD
After giving away like
20
posters, we still have plenty, including that Big Bang's huge poster. I'm planning for another giveaway tomorrow so if you want to win them, just follow my site's
Facebook
and
Twitter
account and wait for the event to start.
Two more days before the CNY break ended, and I need to prepare myself to be back to my workplace. At least I can meet my students, and have Chatime or Sharetea there XD I will beg my sister to go for a Starbucks tomorrow! I shall be back to blog more, and please pray that the layout will change when you visit this site again later hahaa~ take care!
Labels: DAILY, FANDOM, KOREAN MUSIC